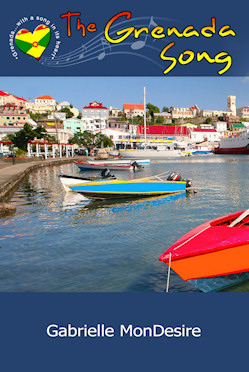 Grenada, I'll never leave you
You'll always stay here in my heart
All my dreams will be island dreams
Whenever we are apart
Diamond lights of St George's
Sweet-scented spice of your air
Call me back to see you again
The longing is so hard to bear
Blue horizons and rainbows
Red roofs and sun-laden hills
Make me sigh with a wistful eye
Your beauty's always a thrill
Rolling waves of Levera
Golden sands of Grand Anse
People smile, little babies laugh
My heart stands nary a chance
Carriacou, how I miss you
Your big drums dance in my soul
How I seek Petite Martinique
Going home is my goal
All my dreams will be island dreams
All my dreams will be Grenada dreams
All my dreams, Grenada dreams
Whenever we are apart
© 2011 Daria MonDesire
All rights reserved. Used by permission
Veteran musician Peter Young, of Ultra-Audio Productions in Nashville, TN, arranged and produced The Grenada Song. Young is best known for his work with music legend Loretta Lynn. His island-inspired arrangement of The Grenada Song is a little bit country and a whole lot of calypso soul.
The Grenada Song is a release of Charlevoix Records. 24 Feb. 2012

Inquiries are welcome if you are interested in using The Grenada Song for promotional use.